We have your IDD celebrations covered alongside Mashujaa Day…Honor our "shujaa's" relaxed at the impeccable Lantana Galu Beach.
Go Places™ highly-recommended partner, the amazing Lantana Galu Beach Hotel, brings you unbeatable accommodation offers for the months of August, September, and October! including the 2018 rates.
Take advantage of the subtle offers and enjoy your holidays in style 
LONG WEEKEND OFFER*
IDD Weekend From 31st August to 4th September 2017
Masujaa Day Weekend From 19th to 23rd October 2017
Ksh 8,500 per adult sharing per night including breakfast
Ksh 8,000 per child per night sharing including breakfast (from 3 to 12 years of age)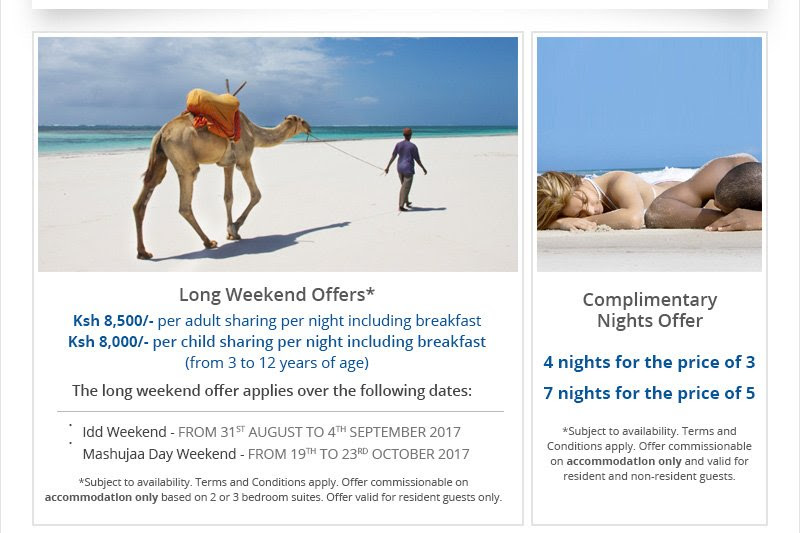 Lantana Galu Beach Hotel has once again earned a Trip Advisor certificate of  Excellence Awards 2017 based on consistently great reviews. It is termed as an elegantly set in lush tropical gardens and along one of the most exclusive and pristine beaches on the Kenyan coast. What awaits is a tasteful selection of Swahili-styled spacious beach holiday suites & villas, outstanding personalized guest services and the ultimate freedom to spend your weekends or celebrate those special occasions at this serene and picturesque escape in Diani! 
Why wait any longer? Make Your Reservations at this Beautiful Beachside Escape Today!
Call Direct: +254714315151
How to Get There: bit.ly/2oNa5Sr
Find Out More: bit.ly/2tHWHDE